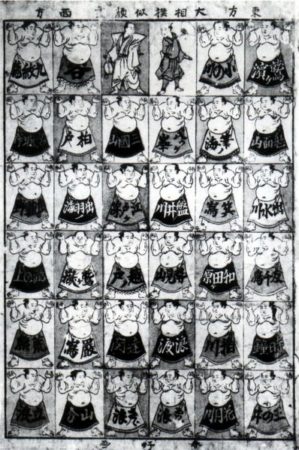 Jan 30, 2019: Move over, sumo banzuke: it's time for the annual #NVJSTop10 rankings!
Of the articles in this Top 10 list, half are from our recent post-renewal catalogue, and half are from our back-catalogue (under the old New Voices moniker). Recurring themes include fashion, samurai history, gender and linguistic analysis using natural semantic metalanguage.
Interestingly, there's a lot of crossover with last year's Top 10: see the asterisked number in brackets for 2017 rankings.
#NVJSTop10 #2018 
1. Japanese Wives in Japanese-Australian Intermarriages
by Jared Denman, NV3 (*2)
2. Romanticising Shinsengumi
by Rosa Lee, NV4 (*10)
3. A Centaur in Salaryman's Clothing: Parody and Play in est em's Centaur Manga
by Anne Lee, NVJS8 (*5)
4. Re-Fashioning Kimono: How to Make 'Traditional' Clothes for Postmodern Japan
by Jenny Hall, NVJS 7 (*1)
5. Transcultural Flow of Demure Aesthetics: Examining Cultural Globalisation through Gothic & Lolita Fashion
by Masafumi Monden, NV2 (*6)
6. The Cultural Semantics of the Japanese Emotion Terms 'Haji' and 'Hazukashii'
by Gian Marco Farese, NVJS8 (*8)
7. Who Are the Ianfu (Comfort Women)?
by Kirsten Orreill, NV2 (*9)
8. Understanding Samurai Disloyalty
by Joshua Archer, NV2
9. A Comparison of English and Japanese Proverbs Using Natural Semantic Metalanguage
by Miles Neale, NVJS8 (*4)
10. Rethinking the Rat Trilogy: Detachment, Commitment and Haruki Murakami's Politics of Subjectivity
by A. K. Byron, NVJS9
Congratulations to all of our Top 10 authors, particularly those who made the Top 10 for two years running. And thank you also to our readers–keep reading, citing and sharing.
Remember, we're open access so you can read them all!