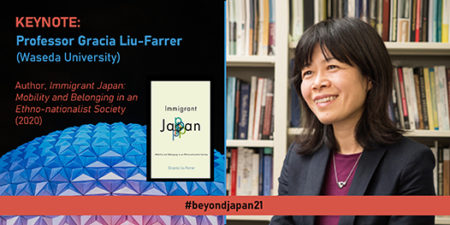 January 11, 2021:  We're delighted to welcome Professor Gracia Liu-Farrer (Waseda University) as the keynote speaker for the #BeyondJapan21 symposium.
As we announced last month, the next volume of NVJS will be a special issue related to an upcoming symposium titled "Beyond Japanese Studies: Challenges, Opportunities and COVID-19", to be held online over February 18-19 and co-organised by the University of New England (UNE) and The Japan Foundation, Sydney (JFSY). The symposium aims to consider strategies that early career scholars of Japan can use to boost the reach and relevance of their research. It is convened by recent PhD graduate Dr Gwyn McClelland of UNE (see his review in #NVJS11) and our Series Editor, Elicia O'Reilly of JFSY.
The keynote speaker for the symposium is now confirmed as Professor Gracia Liu-Farrer of Waseda University, author of the recent monograph, Immigrant Japan: Mobility and Belonging in an Ethno-nationalist Society (Cornell University Press, 2020).
Professor Liu-Farrer is a transnational scholar undertaking Japan-centred transnational research from within Japan, in an emerging area with strong social relevance. From this position, she will share her ideas on how scholars might better advocate for the relevance of Japan-related research beyond a Japanese Studies frame.
Professor Liu-Farrer's keynote session, titled "Making Japanese Studies More Central to Academic Discussion", will be held on Day 1 of the symposium, and will consist of a presentation followed by a conversation with Dr Gwyn McClelland and a Q&A session. Attendance is free and open to anyone in the broader Asia-Pacific region with an interest in Japan-related scholarship.
*****************************
KEYNOTE SESSION:
MAKING JAPANESE STUDIES MORE CENTRAL TO ACADEMIC DISCUSSION
Professor Gracia Liu-Farrer, Graduate School of Asia Pacific Studies, Waseda University
Because of the Western orientation of historic academic disciplines, research about Japan, a non-Western society, tends to be labeled as area studies. Scholars who research about Japanese culture and society consequently find their audience narrowly limited to fellow anthropologists, political scientists, or historians who specialize in Japan. This is sometimes frustrating because our work about Japan is not only about Japan, and not only relevant to Japan, but also is intended to make empirical and theoretical contributions to the disciplines and the subject fields in which we work. It is therefore important to consider how we can make our Japan-centered research relevant to the broader academic fields. This presentation discusses possible strategies to make Japan not only a relevant empirical case, but also central to conceptual and theoretical development in our respective subject fields and disciplines.
Speaker Profile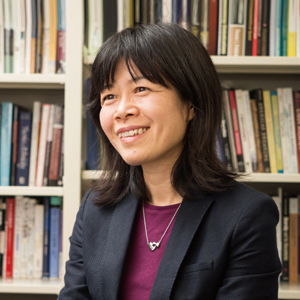 Gracia Liu-Farrer (Ph.D. Sociology, University of Chicago), is Professor at the Graduate School of Asia-Pacific Studies, and Director of Institute of Asian Migration at Waseda University, Japan. Her research examines immigrants' economic, social and political practices in Japan, and the global mobility of students and professional migrants. She is the author of books Labor Migration from China to Japan: International Students, Transnational Migrants (Routledge, 2011), Handbook of Asian Migrations (co-edited with Brenda Yeoh, Routledge, 2018), and Immigrant Japan: Mobility and Belonging in an Ethno-nationalist Society (Cornell University Press, 2020). She has also published over 50 book chapters and journal articles in leading migration and area studies journals.
Hear Professor Liu-Farrer discuss her background and career trajectory in this video (via Waseda University).
---
Call for Abstracts
The #BeyondJapan21 symposium is calling for abstracts from Japan-interested early career scholars (non-tenured and up to 7 years post-PhD) who are in or from Australia, New Zealand and the broader Asia-Pacific region, including the US.
Benefits include:
Publishing opportunity with NVJS Special Issue (scheduled for publication in September 2021)
Presenter honorarium of AU$100
Deadline: Monday, January 18, 2021.
See symposium website for details.
*******************************