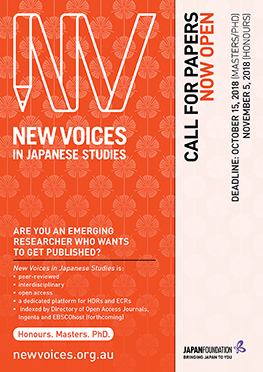 August 16, 2018: We've just released the Call for Papers for Volume 11 of New Voices in Japanese Studies, which is scheduled for publication in mid-2019.
What's new?
This CFP brings with it a few key changes.
1. Broader eligibility
From this year, eligibility has been expanded to include postgraduates from overseas who have recently presented at selected Australian area studies conferences. This change aims to broaden the reach and relevance of NVJS and ensure better exposure for authors, as well as support Japan-related researchers from overseas in building professional networks in Australia and New Zealand. See the Eligibility Criteria for further details.
2. Now accepting reviews
We're also trialling a reviews section from the upcoming volume. If you're interested in reviewing a publication for NVJS, check out the Review Guidelines and get in touch. You can submit a Review Proposal via our online form or register on our Reviewer Database to be notified of possible review publications that may be relevant to you.
Deadlines
October 15, 2018 (Masters/PhD)
November 5, 2018 (Honours)
Thinking of submitting?
Check out our Call for Papers page for details.