Power Play and Performance in Harajuku
Permalinks for references are available in the HTML version of this article.
Abstract
This article analyses the structures and implications of Japan's contemporary street fashion cultures, primarily those of Harajuku. Using Roland Barthes' analogy of dress and dressing it situates the radical subcultural styles within traditional Japanese aesthetics and in a wider history of fashion. Examining various motifs from kawaisa to uniforms, cross-dressing, masks and the politics of second-hand fashion, it deals with theories of authenticity, appearance and agency.
Introduction
This study will outline a brief history of Harajuku street fashion since the late 1970s, focusing on the interplay of invention and convention, authenticity and artifice, innovation and imitation. Borrowing from De Certeau's tactical everyday resistance and Roland Barthes' structuralist application of dress and dressing in fashion, it will consider the ways in which the players in Harajuku change the meaning of available dress objects in the process of their individual dressing.
The article is informed by observational research done in Tokyo in 2006 and 2007 and woven throughout the text are insights from a broad range of artists and writers. The chapter Origins and Spread looks at the question of where fashions come from and how they are circulated. Academic accounts to date have tended to overemphasise the process of fashion imitation by the lower classes followed by aversion by the elite, when in fact the operation is more complex. The purity of subcultural styles should also not be overstated, and examination of Harajuku shows the process of fashion origin and spread to be highly layered and multi-directional. Of particular note here is the new model of fashion media that came out of Japan's youth fashion cultures of the 1990s whereby professionally styled editorial shoots were replaced by images of normal' people in their self-styled creations.
In considering the relationship between individuality and conformity, the study turns to Pierre Bourdieu's account of taste and distinction and recognises the inherent paradox of fashion, whereby it forms a statement of criticism as well as a shared expression of a desire for sameness. When it comes to so-called rebellious subcultural fashion, the process of commercial recuperation can be particularly problematic, but as Harajuku dress-ups are often self-consciously and retrospectively imitative they don't face this predicament of authenticity that the western subcultures they borrow from did. The highly subjective, personal and sensual relations people have with clothing is also necessarily acknowledged here.
In the chapter Clothes Wear Us, the discussion of the potential political dimensions of fashion opens upan examination of performativity and identity in Harajuku, particularly with regards to gender politics. Another way to consider the interplay of individuality and conformity in dress is to look at uniforms in contemporary Japan, in particular the phenomena of the fetishised schoolgirl uniform. Kogals are read as subjecting themselves to the paedophilic male gaze, while also evading certain structures of power by creating their own sphere of inclusion. Similarly, in the chapter Empowered Cuties?, kawaii is read on one level to be making young women present themselves as naive and vulnerable, but also to be offering them a space for rejecting the adult responsibilities they are expected to aspire to. This part of the thesis owes much to McVeigh's inquiry into uniforms in Japan and Sharon Kinsella's extensive work on Japanese cuteness.
Forming several links between traditional Japanese dress and contemporary fashion, I look at a deconstructionalist approach to dress and dressing, whereby usually hidden structures of dress are brought to the surface. Interrogating the fashion system from within that system, these teens  in  Harajuku  bring  into  question the very meaning of dress. Their foregrounding of artifice is situated in a wider urge for blatant theatricality that is traced in several areas of Japanese art and life, and the aestheticising of impracticality is seen as overcoming any pretence of naturalness in fashion, and thus regaining a type of honesty. The final chapter, New Face, New Life, offers a consideration of the mask in Japanese culture and of performative fashion  as a type of masking. Rather than something that merely hides, examples of masking in Japanese culture are used to define the mask as something that reveals while it conceals, possessing a unique capacity for truthfulness.
I do not wish to delve into myths of Japanese uniqueness or some constructed cultural collective subconsciousness, nor do I have any pretence of being able to deal with a unified or continuous Japan'. Points of consideration span myriad examples within this thing we call Japan, and what follows is a series of trajectories tracing a thread of ideas about self-consciously eccentric bodily presentation. Rather than being treated as some strange, exotic enclave, the radical fashion of Harajuku is used for thinking about wider ideas relating to the possibilities (and limitations) of resistance through dressing. In the broadest sense the study comes from my longstanding curiosity about the primal human urge towards body adornment and the relationship between appearance and truth.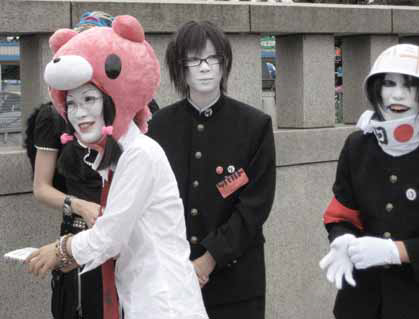 Chronicle of Costumes
Underlying this study of Harajuku street fashion is the idea that clothing has less strictly utilitarian value than is commonly attributed to it. Thomas Carlyle's Professor Teufelsdrà¶ckh told us in the mid-nineteenth century that The first purpose of clothes was not warmth or decency, but ornament' and, among wild people we find tattooing and painting even prior to clothes'.1 He found unlikely resonance with a certain supercilious feline in Meiji Japan, Natsume Sōseki's nameless narrator in his novel I Am a Cat who cites Teufelsdrà¶ckh and muses that human history is not the history of flesh and bone and blood, but a mere chronicle of costumes'.2
From 1977-1998 the main street in Harajuku, Omotesandō, was declared hoko ten (pedestrian haven') and cars were banned every Sunday. One of the earliest style tribes that arose in the area was the takenoko-zoku (Baby Bamboo Shoots Tribe'), characterised by garish-coloured shiny robes and cheap accessories like plastic whistles, long fake-pearl necklaces, nametags, stuffed animals stitched to the ensembles, and kung fu shoes. Performing choreographed dance moves for hours on end at Yoyogi Park, they invented a vibrant sphere of inclusion where their constructed self-image made them intensely visible, but also kept them distanced from their surroundings and from the audiences they drew. Quickly becoming a popular tourist attraction, they translated the state of being under perpetual scrutiny into the pleasure of being seen.
Like the many Harajuku subcultures that came after them, their playful interpretations of place and commodities formed tactics of resistance, avoidance and escape. The radicalism of the aesthetic play in Harajuku no longer exists at the same intensity as it did in the hoko ten years, but the area remains a unique site of communal spectacle where all are positioned under intense public surveillance, and the separation between performers/spectators is dissolved. In accordance with Mikhail Bakhtin's carnival, the ritualized masquerade temporarily transgressed the austerity of daily life with an inversion of everyday hierarchies and social boundaries.3
With genres enacted in a self-reflexive masquerade without any regard for authenticity, Harajuku fashion destabilises the idea of a transhistorical body or naturally occurring agent beneath the surface. We constitute ourselves as hippy, hillbilly or hip-hop simply by looking the part: these subcultures were not grown organically in Japan but were adapted retrospectively with obsessive attention to details of dress, music, dance moves and whatever other stylistic elements, making evident that identity is non- essential. So many niche fashions have never existed side by side as in the hyperreality of Harajuku, where trendy teens celebrate the superficiality of their posed identities without denying that that is all they are.
One example is the early 2000s trend for surfer style which saw an exponential consumption of peroxide, fake tan, faux hibiscus flowers and bright blue contact lenses, rendering thousands of Japanese teens caricatures of Californian beach babes — but also something entirely new. Nothing is purely innovative or imitative and the process of repetition always introduces an element of metamorphosis. Consumers don't take things on passively or uncritically, but relocate signs from their original contexts and transform their meanings in a chaotic bricolage where the distinction between artificial and authentic is extraneous. Their imitative reproduction of images is a methodically precise process not unlike that of the Zen calligrapher: in the words of Rupert Cox, It is not possible to make a clear distinction between the authenticity of an aesthetic original and the authenticity of its copy, when the culture of the Zen arts is about reproduction and repetition as a valued cultural aesthetic'.4
A Thing to Wear
According to Roland Barthes, fashion is a system comprising dress, the social reality independent of the individual, and dressing, which takes place when the subject actualises on their body the inscription of dress.5 He aligned this broad structuralist model with Ferdinand de Saussure's langue and parole directions of language — the former being the social institution that constitutes the normative standard, the latter the individual manifestation. The fashion structure does not simply hang dress objects on passive bodies; consumers must be active in dressing themselves. The innovative dressers in Harajuku aren't rejecting the prescribed dress available to them, but adopting, adapting and altering, and thus symbolically subverting their position from the inside. Dressing — the individual use of the dress object — can lend a silent political dimension to everyday practice. In the act of dressing, like Michel de Certeau's walking,6 authority is decentred and we are the narrators of our own experiences; but as the structure of the city restricts how we can navigate it, so too are we limited by what dress objects are available to us. We are at once fashioning the world and fashioned by it.
Changing the meaning of the dress object in the process of their dressing, Tokyo's street fashion innovators irreverently but seamlessly combine traditional Japanese dress (including kimonos, obi belts, kanzashi hair pins and geta sandals), modern avant-garde Japanese couture, contemporary and retro Western fashion, and completely new trends using handmade and re-assembled second-hand fashion. Their hybridity of images demonstrates the perceived Japanese skill at combining novelty and tradition, East and West, without compromising an essential identity. The styles are too eclectic to be categorised as a single subculture, but as a whole Harakuju fashion is best described as layered', which suggests that their bodies and identities are polyvalent works in progress requiring a patchwork of meanings.
Continually borrowing from Japan's rich visual heritage, the street fashion is as evolutionary as it is revolutionary. Putting the banal, beautiful and grotesque side by side, their radical self-presentation can be situated alongside the elaborate costuming that has existed for many centuries in Japan, like the geisha's extravagant, artificial beauty or the samurai's complex armor. The basic adult kimono (ki mono meaning a thing wear') comes in two sizes — man and woman — and has never deviated from the basic, untailored T shape that was introduced in the 8th Century. Rather than emphasizing the human form and striving for the ideal figure, as Western dress has done, the kimono has its own structure and silhouette that is independent of the individual wearer. It retains its own elemental geometric form with little regard for the body's biological contours, an approach that can be traced in the work of contemporary Japanese fashion designers who have become known for voluminous, one-size-fits-all, layered creations.
Clothes Wear Us
The performativity of male and female identity is foregrounded in the playful dress-up culture of Harajuku. Valerie Steele writes, pity the poor man who wants to look attractive and well dressed, but who feels that by doing so he runs the risk of looking unmanly',20 but no such pity should be granted to men in Harajuku. Besides blatant cross-dressing, which is not uncommon, men in Tokyo's youth fashion districts are at great liberty to embrace the expressive possibilities of fashion. They are often meticulously groomed with aberrant clothing, haircuts and even make-up. Shoichi Aoki launched TUNE magazine in 2004; with the same premise and format as his FRUiTS publication it is dedicated specifically to male avant-garde street fashion and shows that men's dressing in trendy districts like Harajuku is only marginally less dramatised than that of their female counterparts.
There is no taboo that transgresses all circumstances for everyone across all cultures at all times. One of several women around the world who caused outrage for being impostors of men', Emma Snodgrass was arrested in Boston in 1852 for wearing pants. By the 1930s women in trousers were still shocking for many but becoming increasingly chic; and today it is invisible. Vivienne Westwood worded it well: it's just a question of adjusting the eyes — it's only perverse because it's unexpected'.21 Westwood, who is revered in Harajuku, is one of a select few designers who have tried a number of times to introduce male skirts, but although many gendered rules for dressing now amount to little, men still can't wear skirts inconspicuously.
While men once coveted exuberance in dress, since the Eighteenth Century western male fashion has been increasingly restricted in silhouette. Skirts/dresses are the most clearly gender-specific clothing we have (though the male anatomy is actually better built for them), which might relate to men's aversion to concealing the phallic suggestion of power, or a Freudian fear of castration. The man pictured above in the crà¨me skirt ensemble possesses stronger implications than the overt exaggeration of drag. He is not a hyperbolic image of a woman, he is just comfortably wearing unbifurcated attire — like the kimonos, kilts, caftans, sarongs, tunics, grass skirts and togas that have been worn by men throughout history, and are still worn frequently in many parts of the world. Through his dressing he shows that our prescribed gender aesthetics are arbitrary.
This non-essentialness of gender is demonstrated in Virginia Woolf 's Orlando: A Biography. Initially feeling no different after transforming from man to woman, we read, once Orlando has been wearing skirts for a while, a certain change was visible'.22 She finds herself being treated differently and becoming more modest, more vain, more fearful of her safety. It is clothes that wear us and not we them,' the narrator tells us, we may make them take to mould of arm or breast, but they mould our hearts, our brains, our tongues to their liking'.23 There is no inherent male or female; there is only costume. This is certainly the case with the Japanese geisha (from gei performing arts' and sha person'), who undergoes elaborate rituals of preparation before appearing and behaving as a geisha. Her face is painted with a thick white paste, and on the blank surface her eyebrows are drawn in black, high on the forehead, and her lips are painted in deep red, smaller than her natural mouth. Her hair is painstakingly arranged with a special oil so as to resemble a sculptural wig, and her every movement is deliberated and stylised. She is an unapologetically synthetic beauty, a masquerade of sensual femininity. In the words of James McCormick she is a costume that fits a woman rather than a woman who fits a costume'.24
The popular Harajuku subculture Lolita draws on a highly feminised aesthetic derived from Victorian dolls with ribbons, lace, embroidery, bonnets, corsetry, frills, and hair in ringlets. Becoming a Lolita is laborious and the end result is so constructed as to indicate theperformativity of all female identity. Unlike in the post-war Western subcultures, such as those analysed by Hebdige, it is predominantly females who drive the Lolita fashion culture and obtain the most visibility. There are, however, a significant number of males in Harajuku who adopt the look, complete with bloomers, bows and stockings. Mana-Sama is the most famous of a number of male celebrities who wear the Lolita style in their daily lives. His fashion label Moi-même-Moitié sells the sub-categories of Elegant Gothic Lolita (EGL) and Elegant Gothic Aristocrat (EGA), both centred on androgyny.
Mana-Sama is also famous as the former front man of the influential visual kei band Malice Mizer. Visual kei (visual type') is a music genre that self-consciously foregrounds an emphasis on visuality, and therefore treats illusion as illusion. Its aesthetic is a combination of traditional Japanese dress  with cyber-punk/goth. Like the glam rock and hair metal musical styles often compared to visual kei, there is an emphasis on androgyny and adulation of feminine-looking men. Many male visual kei musicians take on female names and personalities to become cartoon versions of femininity, acting out an idea of womanhood better than the real' women who follow in their footsteps. As Judith Butler suggested, in imitating gender, drag implicitly reveals the imitative structure of gender itself'.25 All gender, she says, is a form of drag as there is no core masculine' or feminine' to refer to. In a final twist, female visual kei fans imitate their favourite performers in Tokyo's street fashion and kospure (from cosplay or costume play') districts, as women impersonating men impersonating women.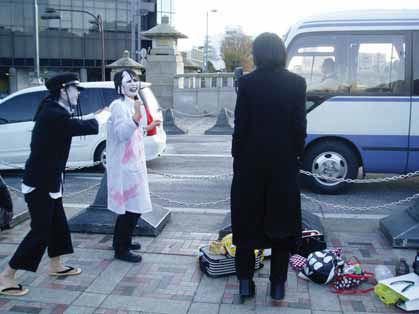 Many Forms of Uniform
Official uniforms were first introduced in Japan as part of its modernisation policy and today they exist with profound salience. Brian McVeigh describes Japan as the most uniformed society in the world', where everyone is costumed for their social role and prescribed dress forms unambiguous hierarchies in even the smallest institutions.26 Schools in Japan regulate uniforms to varying degrees, but many dictate haircut and style, bags, socks, even underwear. However, like anywhere, students find ways to use the uniform as a platform for building their subjective identity. Far from being viewed as suppressing individuality, McVeigh found in his surveys of high-school students that the uniform can actually determine idiosyncratic expression — when everyone was in the same thing, the individuality of each person was made clearer.27 Uniforms make the wearer visible as a member of a group but offer a veil of anonymity since the body is obscured by the instantly recognisable formalised code. The costume play of kospure offers temporary symbolic retreat from the seriousness of official costumes and roles, while simultaneously creating a new stage for group identity and performance, within specified spacial and temporal zones.
As Craik demonstrates, while the uniform's symbolic elements might indicate a desire for control, predictability, authority, discipline, conformity or standardisation, the reality is more nuanced.28 The informal codes' of the uniform appear frequently in subversive and licentious contexts. While designed to desexualize the body by restricting movement and concealing shape and flesh, they have long been appropriated in fetish cultures. It is not surprising then that the Japanese culture of official dress breeds a unique fetishism of the uniform, the most widespread example being the adult male perversion for the uniformed schoolgirl.
The Japanese sailor-style girls' school uniform is as iconic as the kimono — there are encyclopaedias cataloguing all varieties, several companies produce miniature doll versions, and there's a thriving second-hand market for collectors. Kinsella has discussed the extent of what she calls the Japanese schoolgirl mania,' which she says peaked in the 1990s.29 At this time men were purchasing phone conversations, company (enjo kosai or assisted dating'), and sometimes sex from schoolgirls, usually through specialist agencies. Burusera (bloomer sailor') shops were selling schoolgirl uniforms, underwear, even gobs of saliva,30 and, infamously, their underpants could also be purchased from vending machines.
At this time a new street style emerged in Tokyo, which, according to Kinsella, was a self-conscious response to the media frenzy. Known as kogal (from kogyaru, high-school gal'), their fashion sensibility was based on customised school uniforms, salon suntans, streaked and colored hair, rusu sokusu (loose socks'), heavy eye make-up, painstakingly accessorised and decorated mobile phones, and elaborate nail art. They unbuttoned the tops of their blouses, rolled their sleeves up, wore ties loose and shortened their hemlines, to combine sexual naivety with overt sexiness and turn the connotations of the uniform around. The kogal were self-commodified, subjecting themselves to the adult male gaze but also evading it by creating their own system of inclusion. Their self-image was a reaction to, and depended on, their social visibility.
The Politics of Reuse
Publications that cater to the kawaii culture, like Cutie magazine, encourage a DIY approach to fashion and often include sewing or crochet patterns for hand-made designs. This, combined with the celebration of second-hand clothing, makes for a thrift fashion culture that is a respite from the fetishised dictatorial big-name brands that so obsess many metropolitan Japanese. In a country where over forty per cent of the world's luxury fashion is consumed,35 this can be read as a political gesture that can interrogate the power structure of fashion.
Immediately behind Omotesandō — where exclusive global couture boutiques glisten side-by-side with armed security guards at the doors — is the independent designer and second-hand fashion district Ura-Hara  (Harajuku's back streets'). Here, the affordability of fashion and eclecticism of ideas is refreshing; information is spread by word-of-mouth, shops are often unmarked and short-lived, and there is little promotional activity. The shoppers there express a triumph of dressing over dress and, like children, they are spontaneous and uninhibited in their dress up games. They often reuse mass-produced commodities in their dress assemblages — for example in the decora (from decoration') look where masses of multifarious colourful plastic toys and objects dangle from bodies and clothes.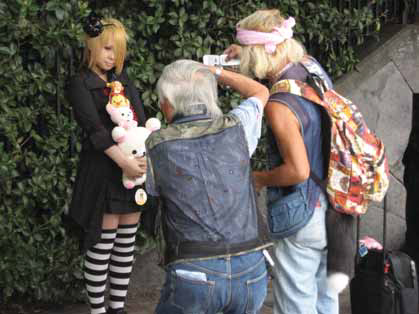 The fashion of reuse challenges the values of capitalism by forming smaller systems of inclusion and refusing participation in the ongoing pursuit of new consumer products. Reselling used items is a lucrative industry in Ura-Hara, but it is different to the capitalism of first-cycle exchange because it blurs the production/consumption divide and positions the wearer as an active meaning-maker. The subjective and fortuitous nature of value and meaning was demonstrated by designer Masahiro Nakagawa with his fashion recycling venture of the early 2000s, Tokyo Recycle Project. Under his label 20471120, which had a devoted following in Harajuku, he invited people to bring him their old clothes and tell him about their associated feelings and memories. Nakagawa and his team then restructured the rejected garments into more desirable ones and returned them to their owners, undermining Japan's hyper- consumerist culture.
Mass-production and the invention of synthetic fibres were two of the earliest factors contributing to the democratisation of fashion. More recently, the counterfeit industry, eBay, recycled designer wear retail outlets in Japan like Rag Tag, and high- fashion designers doing relatively cheap lines for chain stores (like Rei Kawakubo of Comme des Garçons for H&M), have all helped the popularisation of high fashion. A multitude of cheaper products (perfumes, jeans, sports wear) also carry exclusive' brand names, so the aura of limited high-end production is actually widely available. One factor accounting for the recent boom in second-hand fashion is that regardless of brand name or price, fashion today is rarely exclusive. The new distinction must therefore come from hand-made clothes or creative and ironic uses of existing styles, to form codes that are accessible to a select group only.
In Ura-Hara, like on Omotesandō, shoppers are buying scarcity. The marginal local designers produce stock in limited numbers and exclusivity is maintained by rapid change of codes that are accessible only to those with the cultural capital to comprehend them. Being able to find and wear second-hand things in new ways is a mark of independence and a quiet resistance against the fashion system's dictums. They use experimental dressing to communicate with wider society their disillusionment with it. They are costuming their alienation and, at times, questioning the very meaning and function of dress.
All Dress is Fancy Dress
A recurring motif in Harajuku style is the donning of lingerie or corsetry on the outside. An under-garment on top of an outer-garment has lost its original function of reforming the figure and exists as an aesthetic object in its own right. It is a gesture that brings to the surface the hidden mechanics of dress objects and the fashion system. The style harks back to the early careers of Jean Paul Gaultier and Madonna, and also to the traditional Japanese dress where the open gaps under the sleeves of the kimono draw attention to the interior of the dress structure, bringing to the outside the complexity of layering that goes on beneath the surface. At the high-end of the fashion system, there is also the leading Japanese label Comme des Garçons which has often been discussed as deconstructivist fashion' in the way it has continually expressed an undoing of the process of construction with things like loose threads, stitching or lining on the outside of the garments and a general undone/unfinished look.
We tend to think more about how clothes are adapted to the body than the ways the body is adapted to clothes, but donning underwear as outerwear can turn this around. According to Richie the kimono is rarely designed to fit the wearer: the wearer is designated, as it were, to fit it'.36 Similarly, in a popular footwear style in Harajuku where the shoe is shaped to separate the big and second toes, we find evidence of how clothing shapes the body. The style comes from the traditional geta and zori sandals that are worn with tabi socks that allow for the strap between the toes (construction workers, farmers, gardeners and rickshaw-pullers in Japan also wear split toe boots called jika-tabi). According to the Belgian surrealist René Magritte, Everything we see hides another thing, we always want to see what is hidden by what we see'.37 Like his Le Modà¨le Rouge series of paintings from the mid-1930s, the tabi footwear shows that our feet and the shoes we usually wear are heteromorphous.
New contexts give rise to new meanings: the dress taken from the female body and put on the male body transgresses social codes and becomes a new signifier. Similarly, in another popular Harajuku trend where the dress is taken off the body altogether and pinned on top of the wearer's clothes, the dress loses its position as a dress and questions the very meaning of fashion and clothing. Worn outside the outfit as something purely decorative, akin to jewellery, it comments on the operation of a dress for framing the body and aestheticises non-functionality. It brings into question the normalcy of the norm and asks, as George Bernard Shaw's Dunois in Saint Joan did: All dress is fancy dress, is it not, except our natural skins?'. Harajuku fashion, with all its excess and subversiveness, differs from mainstream style only in interpretation. The uniform of a blue suit, white shirt and tie for the salary men around Tokyo Station has no intrinsic meaning but masquerades as natural and through its social use becomes invisible. A deconstructionist approach to dressing dismantles this invisibility.
References
Abé, K., The Face of Another, trans. Dale Saunders, E. (London: Weidenfeld and Nicolson, 1966).
Bakhtin, M., Rabelias and his World (Cambridge: The MIT Press, 1968).
Barthes, R., Empire of Signs, trans. Howard, R. (New York: Hill and Wang, 1982).
Barthes, R., History and Sociology of Clothing: Some Methodological Observations', in Stafford, A. and Carter, M. (eds.), The Language of Fashion (New York: Berg, 2006), pp. 3-21.
Barthes, R., Fashion, A Strategy of Desire: Round-table Discussion with Roland Barthes, Jean Duvignaud and Henri Lefebvre' in Stafford, A. and Carter, M. (eds.), The Language of Fashion (New York: Berg, 2006), pp. 86-90.
Bourdieu, P., Distinction: a Social Critique of the Judgement of Taste (London: Harvard Uni. Press, 1984).
Bourdieu, P., The Metamorphosis of Tastes' in Sociology in Question (London: Sage, 1993).
Bourdieu, P., Haute Couture and Haute Culture' in Sociology in Question, (London: Sage, 1993).
Butler, J., Gender Trouble – Feminism and the Subversion of Identity (New York and London: Routledge, 1999). Carlyle, T., Sartor Resartus (London: J. M. Dent & Sons, 1973).
Constable, C., Lies Make-Up and Nietzsche' in Bruzzi, S. and Gibson, P. C. (eds.), Fashion Cultures: Theories, Explorations and Analysis (London and New York: Routledge, 2000).
Cox, R., The Zen Arts: An Anthropological Study of the Culture of Aesthetic Form in Japan, (London: Royal Asiatic Society Books, Routledge, 2003).
Craik, J., Faces of Fashion: Cultural Studies in Fashion (New York: Routledge, 1994).
Craik, J., The Cultural Politics of the Uniform' in Fashion Theory, vol. 7, no. 2 (2003), pp. 127—148,
http://dx.doi.org/10.2752/136270403778052140
De Certeau, M., The Practice of Everyday Life (Berkeley and Los Angeles: University of California Press, 1984).
Foucault, M., The History of Sexuality: An Introduction, trans. Hurley, R. (New York: Vintage Books: A Division of Random House, 1976).
Foucault, M., Lecture Two' in Gordon, C. (ed.), Power/Knowledge (New York: Pantheon, 1980).
Hebdige, D., Subculture: The Meaning of Style (New York: Routledge, 1979).
Ishii, M., The Nō Theater: Mirror, Mask, and Madness' in Comparative Drama 28:1 (Spring 1994), pp. 43-66. https://doi.org/10.1353/cdr.1994.0002.
Kawamura, Y., Japanese Teens as Producers of Street Fashion' in Current Sociology, vol. 54, no. 5 (2006), pp. 784-801,
http://dx.doi.org/10.1177/0011392106066816
Kinsella, S., Cuties In Japan (1995). Retrieved 7 August 2007, from http://ebasic.easily.co.uk/04F022/036051/Cuties.html.
Kinsella, S., Japanese Highschool Girl Brand' in Pavitt, J. (ed.), Brand. New (London: V&A Publications, 2000), pp. 104-5.
Kinsella, S., What's Behind the Fetishism of Japanese School Uniforms?' in Fashion Theory, vol. 6, no. 2 (2000), pp. 215—238,
http://dx.doi.org/10.2752/136270402778869046
Kurosawa, A., Something Like an Autobiography (New York: Knopf, 1982).
Moriyama, N., Japan, the Land of the Brand, Where Luxury Goods Rule (2005). Retrieved 1 July 2007, from  www.japansociety.org/corporate/event_corp_note.cfm?id_note=507508683.
McCormick, J. P., Japan: The Mask and the Mask-Like Face' in The Journal of Aesthetics and Art Criticism, vol. 15, no. 2 (1956), pp. 198-204,
http://dx.doi.org/10.2307/427875
McVeigh, B., Wearing Ideology: State, Schooling and Self-Presentation in Japan, (Oxford and New York: Berg, 2000),
http://dx.doi.org/10.2752/9781847888976
Natsume, S., I Am A Cat vol. 2, trans. Ito, A. and Wilson, G (Vermont/Japan: Charles E. Tuttle Co., 1979).
Polhemus, T., Street Style: From Sidewalk to Catwalk (London: Thames and Hudson, 1994).
Richie, D., Tokyo: A View of the City (London: Reaktion Books, 1999).
Richie, D., The Image Factory: Fads and Fashions in Japan (London: Reaktion Books, 2003).
Spindler, A. M., Do You Otaku?' New York Times (February 24 2002). Retrieved 18 October 2007, from http://query.nytimes.com/gst/fullpage.htmlres=9C00E6D8113DF937A15751C0A9649C8B63.
Torczyner, H., Magritte: Ideas and Images, trans. Millen, R. (New York: Harry N. Abrams, 1977).
Wilcox, C., Vivienne Westwood (London: V&A Publications, 2004).
Wilson, E., Feminism and Fashion', in Welters, L. and Lillethun, A. (eds.), The Fashion Reader, (Oxford and New York: Berg, 1995), pp. 203-212.
Wilde, O., The Artist as Critic' in Ellmann, R. (ed.), Critical Writings of Oscar Wilde (New York: Random House, 1968).
Woolf, V., Orlando: A Biography (London: The Hogarth Press Ltd., 1970).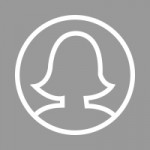 Amelia Groom
University of Technology, Sydney
Amelia Groom was awarded First Class Honours in Writing and Cultural Studies at the University of Technology, Sydney in 2007. She is currently a Sydney-based freelance writer, curator and researcher who edits www.biginjapan.com.au.