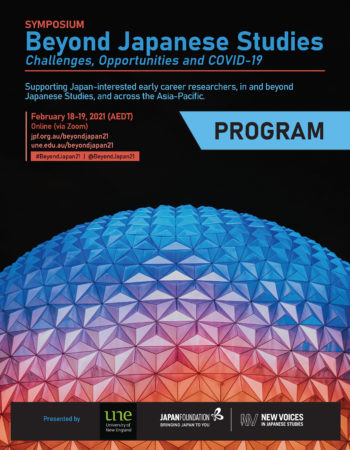 February 11, 2021: #BeyondJapan21 Program Now Available
The program for the Beyond Japanese Studies symposium, to be held online over February 18-19 (AEDT), is now available. The symposium aims to support early career scholars of Japan in the Asia-Pacific region and will culminate in a special issue of NVJS later this year. The symposium features a keynote session with Professor Gracia Liu-Farrer of Waseda University, titled "Making Japanese Studies More Central to Academic Discussion," as well as presentations by 15 early career scholars exploring themes such as interdisciplinarity, social relevance and adapting research methodologies following COVID-19. You'll also get to meet the symposium convenors, our Series Editor and the Guest Editor of our upcoming special issue, NVJS 11 author Dr Gwyn McClelland.
Attendance is free; registration essential. Presented by The Japan Foundation, Sydney and the University of New England.