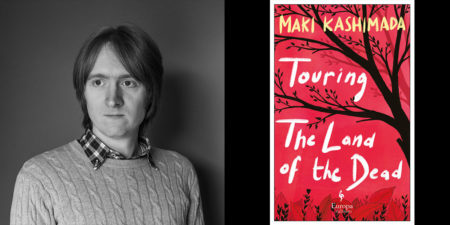 June 4, 2021: NVJS 12 author Haydn Trowell recently celebrated the release of his first book-length literary translation in the form of Maki Kashimada's award-winning novel from 2012, Touring the Land of the Dead. The translation was released in April by Europa Editions, a publisher whose portfolio of translated fiction titles includes Mieko Kawakami's Breasts and Eggs and Heaven,  as well as titles by Kei Iwaki and Hiromi Kawakami.
Haydn's scholarly interest and expertise in literary translation is showcased in his NVJS 12 paper, "The Aesthetics of Linked Verse Poetry in Yasunari Kawabata's 'The Lake'", which uses a detailed case study of one novel to argue that Kawabata intentionally draws on principles of traditional linked verse in his prose.
Since publishing his NVJS 12 paper, Haydn has completed his PhD in Japanese literature at Monash University, and is continuing research in the area of Japanese literature from his new position at Nagoya University.
Congratulations Haydn on this exciting achievement, and we look forward to seeing more of your work in print in future!
———————